I began making photographs at a very young age in Cornwall, and have always seen photography as a means of creating a visual diary: recording my responses to the world around me. I have photographed my family and friends for personal reasons (as, I guess, most of us do) but I regard a camera as an ideal tool for capturing a moment in time. This gives photography a unique position in art. My early attempts were in black and white but I soon turned to colour transparencies.

Later, when I set up my own darkroom, I once again began to explore the creative and expressive potential of monochrome. I am self-taught, having had no formal photographic training. I was enrolled as an Associate of the Royal Photographic Society. I have been awarded a Distinction from the Photographic Alliance of Great Britain, and won their prestigious Gold Medal for best monochrome print of the year. I have a degree in Social Sciences. I am an active member of my local Dawlish and Teignmouth Camera Club; I lecture and judge throughout the Western Counties Photographic Federation and in southern England and wales; and, I work part-time in photography.

I trained and worked in primary education for twenty five years until a career change gave me the opportunity to take up photography professionally. I also worked for many years in the Print Shop of the University of Exeter Students' Guild. I recently "retired" to spend more time with my camera. I have taught photography at the local Community College, and have organised weekend portrait courses. I sell my work locally in shops, galleries and restaurants: particularly Turn of The Tide in Teignmouth.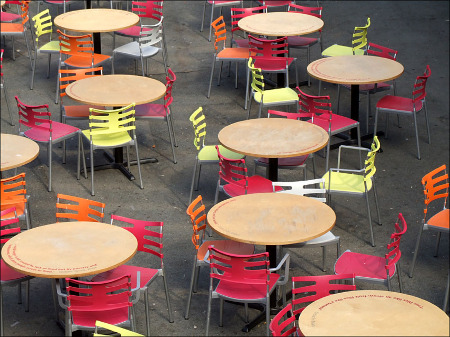 Empty tables, Eden Project, Cornwall